Check out this Trip Temple:
Isn't this video absolutely crazy!? This house just straight out skips the label trip cave and goes straight on to LSD Disco Temple. Here at Tripcave.com we really want to give you some insight into what is possible in the world of trip caves.
And since a Trip Cave is a pretty private room in one's house it can be pretty hard to have inspiration to decorate it in a fitting manner. We know this and that's why we will give you a sneak peak into some fan created trip caves. Hopefully this will give you some ideas into some cool matching colors for your own space room.
For every picture that is posted we will give you a link to where you can buy these trippy lights. This makes the search easier for you after all. Let's start with the video above. Down below you can see an overview of the lighting that are displayed in the trip temple that is displayed in the video.
So much color is going on in this Trippy room! But we got you covered as we will discuss all the trippy lights that are used in this video to create this superb psychedelic space temple.
The first three lighting effects that we can see are, a Led Light Strip which will always give a cool effect. The best position to give this is either in a ceiling nook as can be seen in the above video. Or somewhere low by the ground, on the underside of your bed or couch for example. In the above video you can see how the led strip is also on the desk which is also pretty cool and something I haven't seen before. 
The second light that can be seen is, a color changing light bar. Which is conveniently put over the door. 
After this we can see a black light bar above the bed. Black lights are my absolute favorite. They give the best glow in the dark effect to any posters that are in your trip cave. We talked earlier about good wall decorations if you haven't go check it out right here!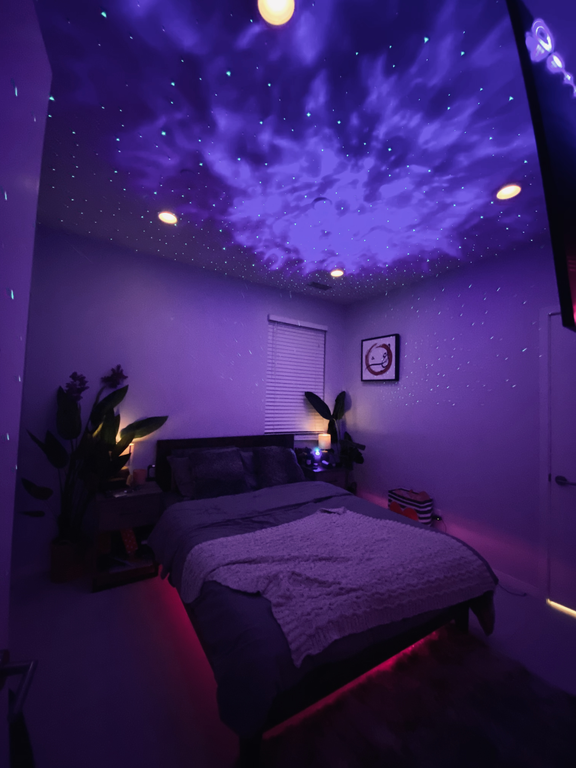 Imagen falling asleep underneath the stars every single night. Now you can! What I like about this room is that it can be changed into a trip cave just with one projector. This is great if you have to hide your trip cave from other people that you live in with.
To show you what this post was all about I leave you with this.
Enjoy your space psychonauts!